Your Memories, Records and Photo's Wanted
A common question that owners of dingo's or armoured cars get asked is
''did your car see action in WW2''?
The reply I usually give, consists of a statement that during WW2 the British Army were hard pressed for both men and materials. And so it is unlikely that the vehicle sat in a storage depot whilst the fighting was going on . (Though not impossible).
It is the wish of most owners to find out what events there vehicle witnessed during its service.
This is however in reality, very difficult to establish.
Most of the war time records of the vehicles were destroyed when the army rationalised and renumbered the surviving vehicle fleets, post war.
Even the records that were maintained post war were disposed of when they left army service in the 1960's and the only surviving documentation is the key card register system.
I have obtained copy of these key cards for research purposes for both Dingo's and armoured cars.
The key cars show when and where the vehicle was struck off the WD register but sometimes will also show the location or unit that preceded this.
To determine where a vehicle actually served, a researcher is forced to collect historic photo's and other archive material. In the hope that a an image or other entry may make reference to the specific vehicle reference number.
So far the research has uncovered a few photo's of cars in military service that are still in existence and an example is indicated below:


The Daimler Fighting Vehicles Project
Your Memories, Records and Photo's Wanted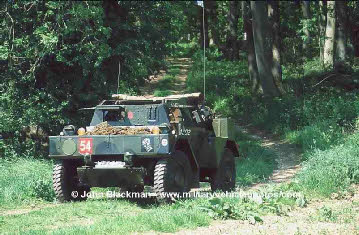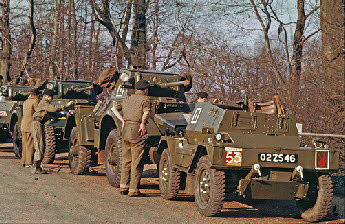 The photo right,shows the same car and was taken on weekend exercise in 1962.
The two leading vehicles are signed as 1st Troop, B Squadron.
This vehicle was stuck off the army register at Central Vehicle Depot, Lugdershall 01/5/1968
Manufactured in 1944 Dingo F329704 pictured left, was re-numbered as 02ZS46 in 1948.
It has been established that at one time it served with the Westminster Dragoons (Yeomanry).
Should any reader like to share there memories of there military service, or stories related to Daimler fighting vehicles, has any historic records, archive material and especially photo's.
I would be very pleased to hear from you................
Additionally spare parts for the vehicles are very difficult to obtain and keeping the cars in an operational condition is a challenge.
Any information on the availability of spares, original parts books, workshop manuals etc (or even whole cars) will be gratefully received.
Please contact me at singeager@yahoo.co.uk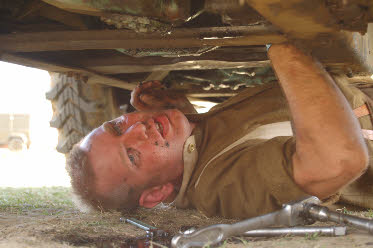 The author lying in a pool of engine oil, again!
Im under my dingo trying to extract a smashed starter motor at the War and Peace show 2008.
Glad too say that next morning, it was back in action.